This is a great article on customer expectations--negative ones. If you like the article, you may want to subscribe or bookmark
Marketing Profs.
They send out a newsletter,
Marketing Inspiration,
about twice a week.
We Suck!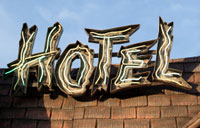 When you think of ways you want customers to describe your product or service, you'd probably want them to avoid that most dubious of superlatives: The Worst. But in a
post
at the
Influen
tial Marketing Blog,
Rohit Bhargava says the Hans Brinker Budget Hotel in Amsterdam has for 15 years promoted itself as "the worst hotel in the world.". . .
It lowers expectations so dramatically that travelers don't feel cheated.
It appeals to its target demographic.
Bhargava's Marketing Inspiration is simple and pragmatic: "Sometimes being honest and giving people something to talk about is the only thing that really matters," he says.

==========================================================
Tags: