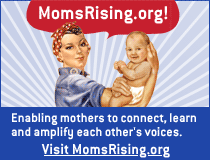 Mothers more often than not are the breadwinner in a single family home. Women should not be penalized because they want to have children. They earn and deserve fair and equal pay.
The Fair Pay Restoration Act is currently stalled in the U.S. Senate. It easy passed easily the House last year. Our voices are needed to move it through the Senate. This Act will restore a big part of people's ability to challenge discrimination in the workplace.
U.S. Senators are home for the holidays through the third week in January. When the Senate reconvenes, they are scheduled to hold a hearing on the Fair Pay Restoration Act (1/24/08) That means we have a chance to meet with Senate staff or Senators before they return to D.C. and vote on this important issue.
Please set up a meeting with your U.S. Senators in your home state during January, to deliver petition signatures supporting equal pay for equal work. Your meeting will be posted on the MomsRising.org site so that others may join you. A face to face meeting with your your Senators is a powerful way to remind them of priorities. All we want is for her or him to vote for the Fair Pay Restoration Act!

Click here to sign on to coordinate a meeting in your state:

The Fair Pay Restoration Act reverses the recent U.S. Supreme Court's ruling in Ledbetter vs. Goodyear that discrimination claims must be made within 180 days after the pay is set, which was a major setback to women's rights, and any employee's ability to stop pay discrimination based on race, religion or national origin.
You may also want to read a
related post about Maternal Profiling on my Losing Proposition blog
.
Tags: